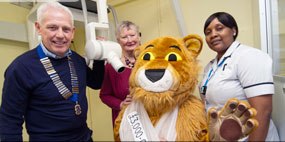 LION RUNS LOOSE AT EPSOM GENERAL HOSPITAL with £3,000 donation for EMEF to purchase medical equipment
Leatherhead Lions had a busy time during the Christmas period which proved very productive. As a result The Leatherhead Lions generously donated £3000 from their Christmas Appeal at a presentation to Epsom Medical Equipment Fund. In presenting the donation Jim Malynn Lions President said "We had a successful Christmas collection and it was felt that Epsom General Hospital, our local hospital that treats many of those people who gave so generously should be the recipient of this money." Word soon got around the hospital that a lion was loose in the building and people came to investigate and when they realised it was the Leatherhead Lions Mascot Roary, there was much laughter and amusement to see Roary padding around the corridors. Roary The lion mascot had a sling to hide and protect the money which he was guarding. Jim and Roary inspected the piece of equipment which they hope to buy. Non Dube, Radiographer explained that they hope the new equipment will be more patient friendly than that being demonstrated.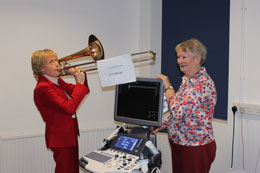 Sheila Tracy heralds Ultrasound Scanner arrival at EGH
The £85,000 state-of-the-art Ultrasound Scanner, which will enable Epsom General Hospital to offer a full ultrasound service, has five probes which cover a range of specialities, including pregnancy, neonatal, abdominal problems including cancer, also DVT and strokes. This will speed up diagnosis for many patients and provide a better service.

Who's for hockey!
Thomas Rosselle and Katherine Shill from Toyota (GB) PLC, visit the Radiology Department to present a cheque for £1,000 from the Toyota Fund for a Better Tomorrow. Jointly with EMEF the £4,000 'hockey stick probe' was presented to Dr. Kirsten Younger, Consultant Radiologist. The 'hockey stick' ultrasound probe enables small structures to be examined in great detail. The name comes from the angle of the head of the probe on its handle, this makes positioning the probe on the skin easier allowing examination of the small joints of the hands and feet and small lesions in and just under the skin with much greater accuracy than before.
Making a difference
A donation of £1,187 from staff at Sainsbury's Kiln Lane, Epsom, has enabled EMEF to purchase the Neonatal Head Ultrasound Probe for EGH. The Neonatal Head Ultrasound Probe is attached to the new ultrasound machine and is specifically designed to view a baby's brain through the skull, using the fontanelle (soft spot) as a window. Ultrasound is safe, painless and quick, which is why it is so much better than CT or MRI scanning. The baby does not have to be sedated or have an anaesthetic and does not have to be held still.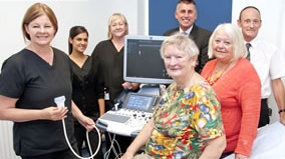 Generous Councillors donate probe to help diagnose Deep Vein Thrombosis
A donation of £2,235 from Surrey County Councillors', Eber Kingston, Jan Mason and John Beckett's, Community Allowance has enabled EMEF to purchase a £4,000 Linear Array - Vascular Probe for the Radiology Department at EGH. Ultrasound scans of the carotid arteries in the neck are performed to diagnose severe disease within the carotid arteries which can be a cause of mini strokes. The new probe will enable these scans to be carried out, ensuring the rapid assessment of these arteries.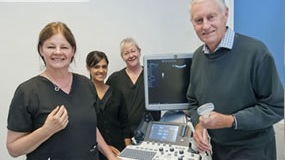 Convex Array Probe for Radiology Department at Epsom General Hospital
Former Surrey County Councillor, Chris Frost, donated £1,317 to Epsom Medical Equipment Fund from his Councillors Allocation to enable a £3,800 Convex Array Probe to be purchased for the ultrasound service at Epsom. The probe will play an important role in diagnosing and assessing problems in the abdomen, mainly the liver, kidneys etc. This probe will enhance the detection of cancer due to the high resolution and improvement in image quality. Sonographers, Neera Patel, Liz Parker and Chris Chapman were present to receive this new probe which will upgrade the ultrasound service for this area of the body.
Hendry Hand Wrist Correction Device
When Purgent Patel at Ruxley Pharmacy, Ewell, heard that EMEF were raising money to purchase a much needed second Hendry Hand Wrist Correction Device to help with mending fractured wrists (Colles fracture) at Epsom General Hospital, he had no hesitation in asking his Masonic Lodge, Atlantes Lodge 5796, whilst he was in chair, to support his charity of choice and this new project. They readily agreed and Purgent was able to hand over a cheque for £2,500 to pay for this to Jim Hendry, Senior Plaster Technician at Epsom General Hospital who had developed the idea along with his business partner, Chris Whipp, who designed the apparatus.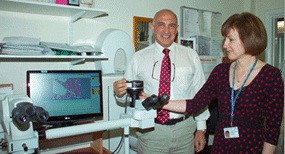 New Microscope Camera
A £16,000 specialist camera will help to diagnose, treat and learn more about potentially life-threatening conditions (including cancers and blood disorders) in the Pathology Department. This is really state-of-the-art technology and helps to deliver excellence in diagnosing certain conditions. Local Chemist, Purgent Patel, presented, on behalf of EMEF, this new digital camera to Dr. Essam Rawelly in the Pathology Department, who said he was absolutely delighted with the new camera as he can measure small abnormalities and get that information to the people who need it as soon as possible.

General X-Ray Machine
The existing general X-Ray Unit was replaced at a cost of £71,000. This equipment, the backbone of an X-Ray department, provides a general plain film service to all users from all sources, GP, Out-Patient and In-Patient, young and old. From chest X-Rays to spine X-Rays, in fact all things that apply to the skeleton, can be performed with this equipment. The unit will be expected to perform examinations on 50+ patients per day (15K examinations per year).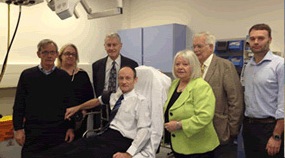 Councillors finacially support EMEF to purchase a Wrist Traction Device for Colles (wrist) fractures developed by Senior Orthopaedic Technician at Epsom
Surrey County Councillors, Chris Frost, Eber Kingston, Jan Mason and Colin Taylor pooled money from their County Councillors Allocation after hearing about a new traction device and the benefits it offers to patients and staff at Epsom General Hospital. The money will buy a Wrist Traction Device for patients at Epsom Hospital which is used for helping mend fractured wrists.
Developed by Jim Hendry, Senior Orthopaedic Technician and designed by his business partner, Chris Whipp, early studies show that, when using the new device, patients are less likely to need an operation to correct their broken bones.

Medics 4 Charity from South East Coast Ambulance Services started the ball rolling with a £7,000 donation to help EMEF purchase a mobile X-Ray Unit for the Stroke Unit
Thanks to a 72 mile sponsored coastal walk on the Isle of Wight by a 17 strong team from SECAMB and three A&E Epsom Staff, it was made possible for a £53,000 mobile X-Ray Unit to be purchased for the Langley Wing, and in particular the Stroke Unit on the Britten Ward. The mobile will allow doctors and radiographers to assess patients at their bedside without having to be moved.
'On the move' monitoring equipment for stroke patients
£40,000 monitoring equipment allows stroke patients to be very closely and continually monitored from a central viewing station, alerting professionals to any deteriorating condition and therefore enabling prompt action. Patients are not necessarily confined to their bed as equipment can be mobile, giving freedom to move around. It is ideal for on the move monitoring. Photo by Epsom Guardian - from left to right: David Smith, Matron Maria Patterson, Bess Harding, Senior Sister Karen Brand and Stroke Specialist Nurse Reena Dhami.

Cirrus Wheelchair
Kerry Foods, Egham, presenting a £2,000 Cirrus Wheelchair (Tilt in Space) and other therapy equipment to Neuro Physio & Occupational Health Therapists, Stroke Unit. The Cirrus Wheelchair is no ordinary wheelchair playing a vital role in a stroke patients rehabilitation and along with other therapy equipment will help patients to resume as near normal life as possible.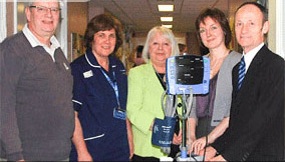 Gold Standard BP Carescape Monitors for Paediatric Outpatients
Surrey County Council Councillors, Jan Mason, Colin Taylor and Eber Kingston, donated £2,450 from their Councillors Allocation to enable two Gold Standard BP Carescape Monitors, ideal for the younger patient, to be purchased for Paediatric Outpatients at Epsom, enabling all general observations i.e. blood pressure, pulse, measuring percentage of oxygen in the blood and temperature of the patient, to be taken. To bridge the price gap, Eber Kingston and Les Duplock ran a successful Quiz Night.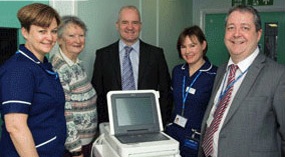 ECG Machine for Hospital's Stoke Unit
Karen Brand, Senior Sister/Ward Manager, Britten Ward, Bess Harding, EMEF, Dr. Julian Eyears, ExxonMobil, Rachel Gallifent, Stroke Specialist Nurse and Michael Burden Trust HR Director with Philips Pagewriter Cardiograph, a high specification electrocardiograph (ECG) machine for the Stroke Unit at Epsom General Hospital.
This machine comprises the latest technology which allows the severity of a heart problem to be diagnosed. An added bonus is it can be wheeled between patients quickly and effortlessly.
Laparoscopic Simulators
Trainee Surgeons at Epsom Hospital can now practice complex 'keyhole' techniques using state of the art simulators. These two cutting edge electronic laparoscopy (keyhole) simulators, costing £5,000 each, allow trainee surgeons to hone their skills to perfection by 'operating' on synthetic tissue or animal organs. The simulators use tiny cameras to project the trainees' exact hand movements onto a monitor - exactly the way that a laparoscopic surgeon works in the operating theatre. Nowadays keyhole surgery can be used on patients with gall stones, hernias and to remove diseased spleens and tumours.